Rap Music Video Production By VizTV
Produced on behalf of a local wheelchair bound rapper "Not Guilty of S.Y.G." from East Houston, this rap music video production and song was articulated for the sake of showing love and paying tribute to famous acts from the Houston Area including D.J. Screw and Pimp C, among others.
Another intent of the visuals in this rap music video production was to make sure to recognize swangers as being a mainstay in the Houston area for slabs (souped up cars).

Looking For a Low Price Solution For Your Rap Music Video Production Needs in Houston, TX?
Call VizTv Media Services at 713-443-7578
We're generally ruthless about our prices and collection since our pricing is so low for what we bring to the table.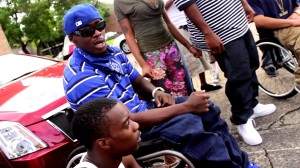 However, in the case of Disabled Americans, we have found it our hearts to offer a deep discount and go the extra mile because we know its hard enough nowadays with full health, and couldn't imagine what it would be like to be disabled.
This rap music video production features 100% original footage from The Toyota Center, Kirby Dr (The Astrodome and Reliant Stadium), Franklin St (Downtown for Minute Maid Park), East Houston, JJ Sports Bar on Woodforest in East Houston, and footage from the block party held weekly at Mesa and Tidwell in Northeast Houston.
Rap Music Video Production – To Live and Die in The "H" – SYG