Video editing is a demanding procedure which probably isn't more difficult than assembling a car. In fact, according to some of the answers given to a Yahoo user who asked the question, cars are built much faster than videos are filmed, edited, and produced.
If GM can assemble a car in 6 hours, and Henry Ford in 12 Hours with the Model T (down to just over 2 hours after the invention of the assembly line), then what does that say about your videographer and the efforts of the video editor?
It says a lot. Especially if the final video is of high quality. It also speaks of the intimacy between a video producer and his project.
It can take anywhere from 6 to 20 hours to deliver a top quality edit, even more time if animation and computer graphics are composed. This is in addition to the 4-20 hours it can take to film the video, and complete the cinematography work. The whole point of this article is to bring you into the world of the video editor so we can give you a sneak peek at the process.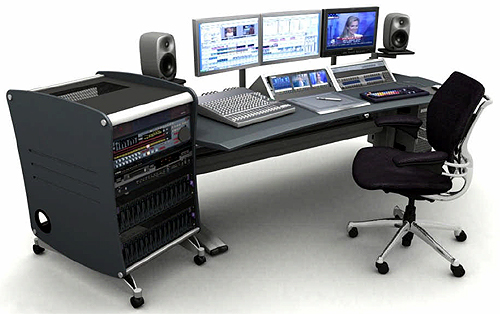 Getting the Footage off the Camera
First and foremost, we need to export our footage from the storage device (usually the camera or memory cards) to our video editing workstation. This may seem a light task, but it requires more time than many would ever know about, to appreciate.
HD video files are HUGE.
A 4 minute clip can contain over 1 gig of data which may not seem like much at first, but considering most of the videography projects we undertake results in 100's of clips, clearing memory cards can sometimes take up to 2 hours. Even with Class 10 SD cards. However, once the video files are on your machine the next task would be to organize the video clips.
Organizing Video Clips
In my experience, organizing video clips is the biggest hassle, however, the greatest value. Its one thing to have a small project with… maybe 13 clips in total (Who needs to organize that?), but its an entirely different beast to find out you have 186 video clips (A lot fits on those chips nowadays) that you need to identify.
Using Adobe Bridge is a big help, but that's a lot of content. Those clips need to be organized.
For example, in a music video you'll have clips of the artist, clips of certain people, places, and things, clips of everything the artist wants, in addition to the shots you want, added to the shots you need. Then there are the retakes.
As you can see, the accumulation of video content can creep up like a rising tide on your video editor which is why we decided to point it out to give you a sense of the vast amount of effort that goes into video editing before the process of actually editing the video begins.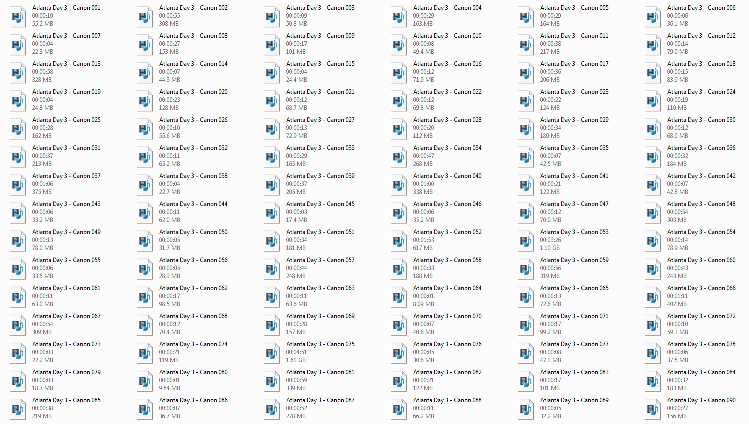 Its Best To Name All Video Clips
In most cases, if the video files are efficiently organized, naming the clips individually isn't necessary. Again, "the biggest hassle, however, the greatest value", applies.
[box] Lets imagine I have 30 clips of a house from different angles, 15 clips of a car from different perspectives, and 22 clips of general b-roll, amongst a plethora of other video clips, and my client wants one clip in particular for whatever reason.
With the above scenario in mind, we've come to the conclusion that being competent means being able to go right to the clip and provide it to our client in short order. We've also realized the benefit this awards our editing efforts.[/box]
Its a hideous task. It would involve watching all 186 clips. It would involve writing 186 new file names, and leaving 186 notes. It would involve watching all 186 clips. Sure, you have video preview thumbnails, but as a stickler for detail, you have to watch it to know whats in it.
The hidden jewel of this process is the opportunity to filter out bad footage which shouldn't be used. This is great help once we graduate to editing the video, because we know for a fact we're working with the best clips and we know what they are on glimpse.
Syncing Video With Audio
As it relates to music videos.
This process is never cut and dry. I've noticed that humidity affects sound with some cameras and camcorders. When we record a music video in a humid environment (Houston, TX), we find the audio and video duration are slightly different. When we film in a controlled environment, the video and audio files tend to match.
If the audio file is off (off meaning slower or faster) by a few milliseconds versus the video, (or vice versa) you can have a situation where you see the artist moving their lips in one direction while the lyrics of the audio have taken on lives of their on. Fixing this problem is simple in most cases, the sad part is some video editors don't detect it until their video is nearly complete. Then they don't fix the problem because they will have to nearly dismantle the board, or redo the edit. This is why we believe there are so many videos out there with poor audio/artist synchronicity.
In some cases, having flawed audio that's to be matched to a performing artist on video, can add hours to the video editing process. The longest it has ever taken us to sync bad audio to video was 6 hours, but in most cases it doesn't add nearly as much time to the editing process.
This phenomenon even occurs in music videos for major labels, and sadly in the news (you never really know what they are reporting). This isn't true all the time, but it certainly isn't rare. Look closely at person in the video from now on, you'd be surprised.
Assuming we're producing a music video with a recording artist performing in the video resulting in audio that needs to be synced with video, once the most accurate synchronization is complete, we start editing the video.
Editing The Video
Now that we have the artist synced with the music, b-roll footage organized and identified, and a general idea for a "look", we can now focus on the music. We focus directly on music when deciding where to place our cuts and video effects unless we telling a story using video over the lyrics of the artist and there's a conflict with the beat.
Video editing can take days worth of hours long sessions until that "right feel" is realized. Once the right feel is achieved, we can move to polish the video by perfecting each one of what can be hundreds of cuts and effects that give the videography project "pop" and appeal.
Then there's client review.
If VizTV Media is your videographer we make sure you get a rough cut of the session's video editing work if requested. We believe that keeping the talent in the loop is the best way to compliment the music, and the best way ensure that our client's expectations are met.
The Final Production
In most cases, videos end up on the web, but in other cases they may need to be burned to a Blu-Ray disc or specifically formatted for television. Its always important to inform the videographer/video editor of any required format outputs when it applies. Since video files are so large, it is not uncommon for them to be deleted once their usefulness has passed. If this happens, you are left with a compressed web version of your video which almost always loses some quality. It could also mean the difference between the suite rejecting your video when they had every intention of accepting it for airplay.
Contact us if you are considering a music video production and are in need of a videographer.
Our Music Video Editing Process